Currently there are 32 adults and 8 kids, aged 1 to 81, living in the Collective House Kankanmori. The age group with the largest share is people in their 40s, and we have 6 people over 65-year-old. You get to see everyone's bright smiles at a "common meal," which is a communal meal the residents hold a few times a week.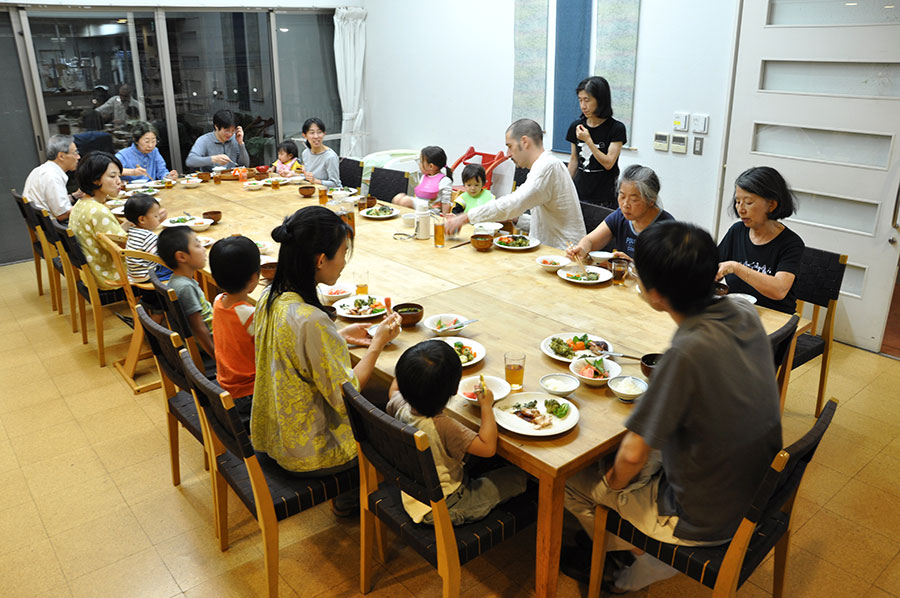 Today's menu was hamburger steaks, turnips, chicken soup and salad full of arugula from our garden. A portion of our common meal generally costs 400 yen during the weekdays, 500 yen on the weekends. The residents take turns cooking, choose a day to cook once a month and can pair up with one or two more people.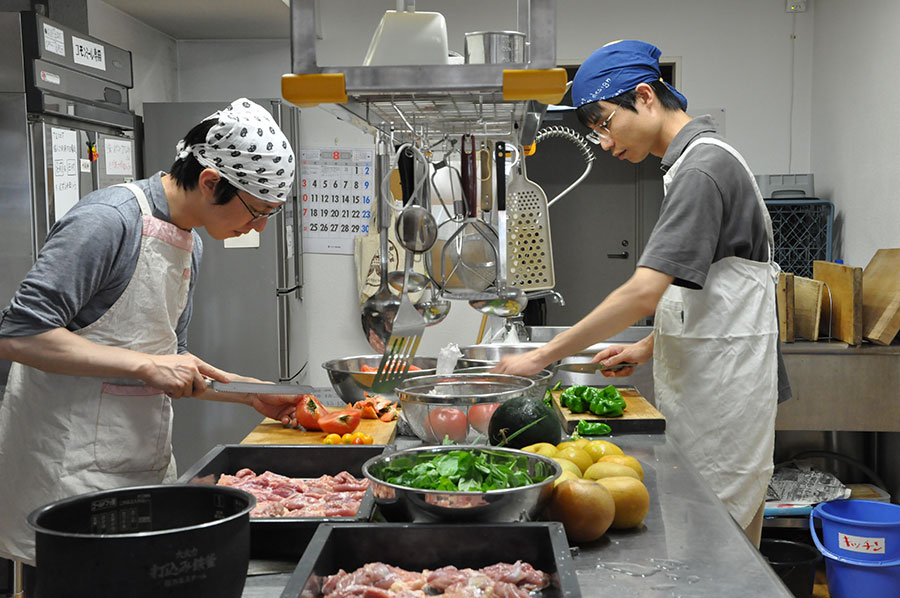 The budget for seasonings and necessary kitchen products is managed by one of our activity groups, the "Common Meal Group," that is run by several people. There are more than 20 activity groups at Kankanmori to make our life go smoothly and efficiently. One of the popular groups is the Gardening Group, which plants vegetables and flowers and maintains the composting system.
Our common dining room is where everyone can spend his or her time at any moment. Some use the room, which has Wi-Fi access, as their study room. Others sew in the room in the morning. Sometimes mothers are spotted getting together to watch a movie, and some residents hold meetings there. Kids also do their assignments in the room after school. Grownups can enjoy staying there for drinks after a common meal, spontaneously joined by those who come home late from work to hang out into the small hours of the night.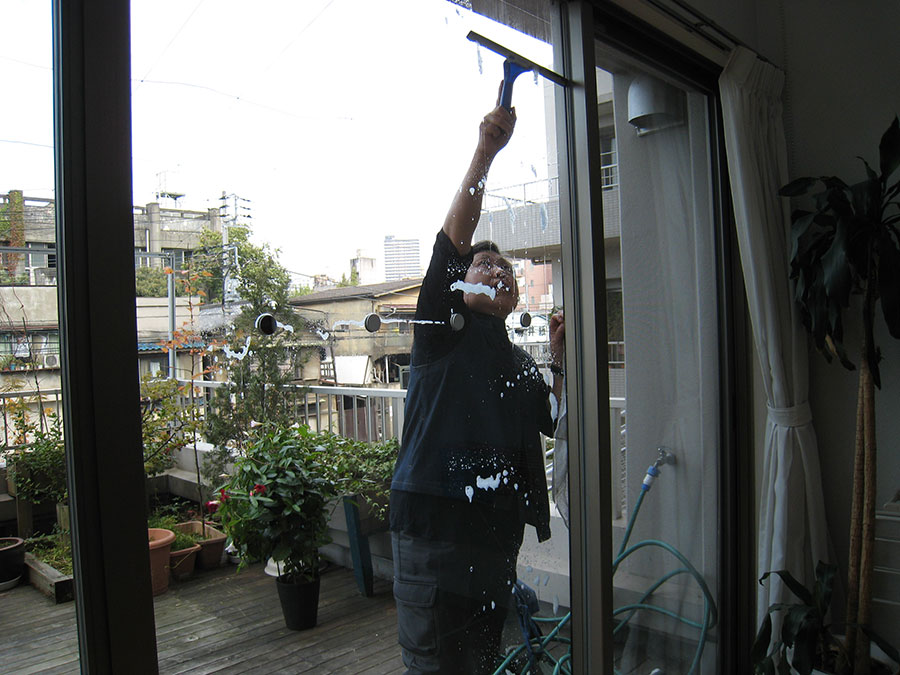 It is mandatory for each of us to participate in at least two groups. That being said, it is true that not everyone can be committed too much to group activities in busy Tokyo, and we understand that. Volunteered activities to support communal meals and living are a core characteristic of living in the Collective House; however, we have each independent household like a normal apartment. If one is too tired to be social, she can go straight home, even if she ordered a common meal, because she can bring it home to eat.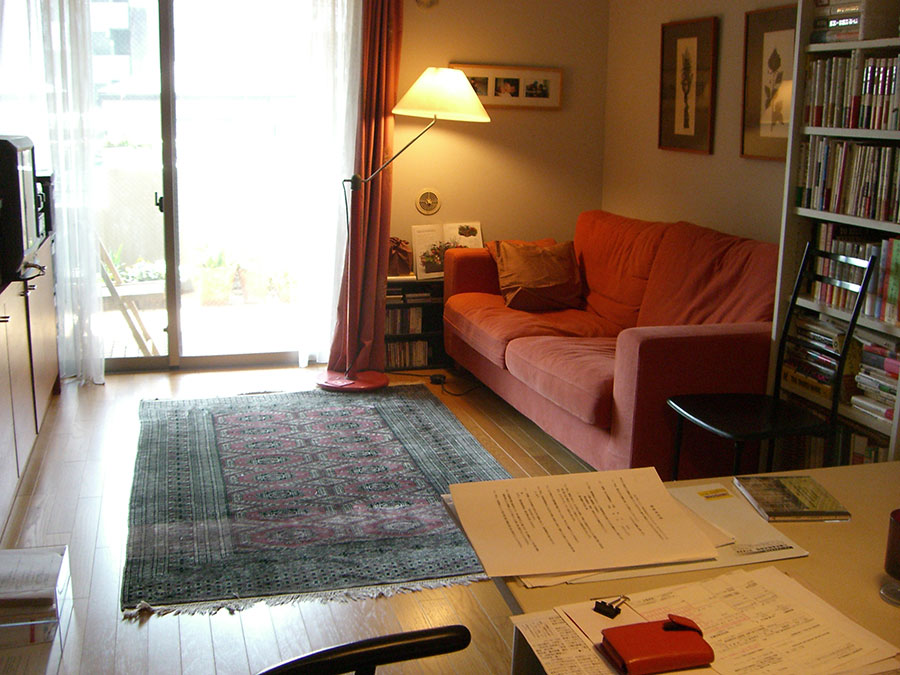 The size of a given residence varies from a studio of 25㎡ to a 2LDK of 61 ㎡. Each room has a kitchen and a bathroom like a normal apartment. The rent also varies from approximately 70,000 to 140,000 yen. For communal spaces, there are the living room and the spacious dining room that can seat up to 40 people. There is professional cooking equipment in the communal kitchen. The laundry room, guestroom, an office with a computer, and the garden and balcony also enrich the residents' daily lives.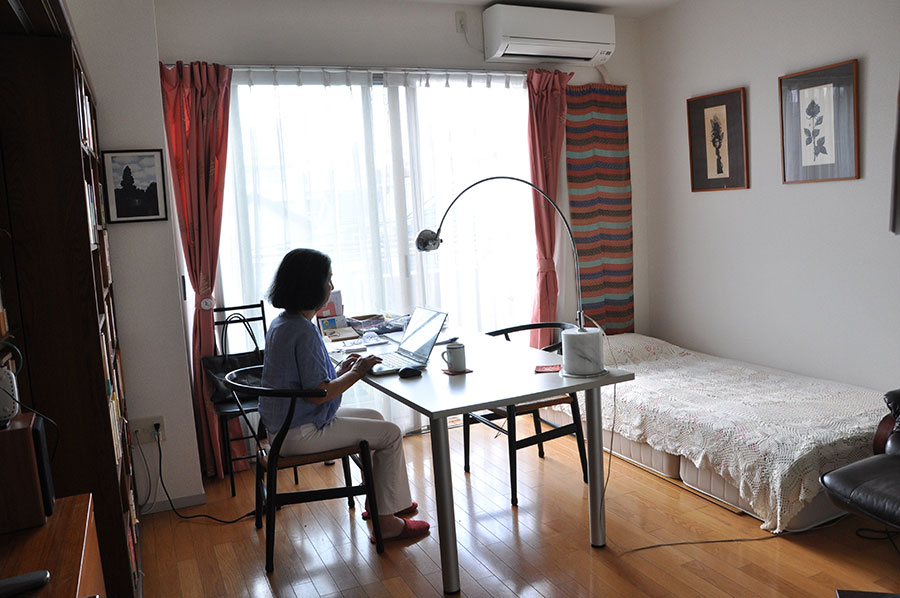 We hold regular monthly meetings, which every resident is expected to attend to make rules and solve problems that occur in everyday life. Our principles are self-management and self-operation. Everyone is equal no matter how old one is or what kind of career one has. We discuss to get along.
Note: The residents are not required to participate to eat every common meals. We sign up for a meal we want. We can also pick a meal later if we come home late.